FIL Icon 1 MOBILE PHONE CHARGER FOR SMARTPHONES IS ONE OF THE MOST SORT AFTER PRODUCTS CURRENTLY IN THE MARKET.
IT OFFERS A CONVENIENT WAY OF CHARGING MOBILE PHONE BATTERIES.
IT IS LIGHT WEIGHT AND HAS COMPACT DESIGN IDEAL FOR TRAVELERS.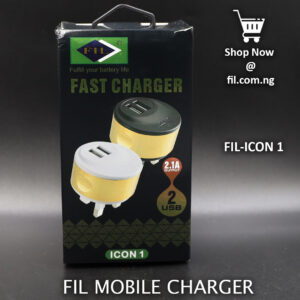 THIS SUPER FAST CHARGER HAS A GOLD COATING AROUND IT AND IS CAPABLE OF FULLY CHARGING YOUR PHONE BATTERY IN ABOUT ONE HOUR DEPENDING ON YOUR BATTERY LOW RATE.
THE CHARGER HAS A MICRO USB INTERFACE WHICH CAN BE USED TO CHARGE ANOTHER PHONE.
FIL ICON 1 COMES WITH AN EXTRA USB CABLE.
IT IS HANDY, POCKET SIZED AND LONG LASTING. YOU CAN USE IT ANYWHERE AND NOT BE AFRAID BECAUSE IT HAS AN OVER-LOADING CIRCUIT PROTECTION.
THIS PRODUCT IS ALSO SIMILAR TO OUR IMPACT 9 IN CAPACITY  https://fil.com.ng/product/impact-9-super-fast-mobile-charger/